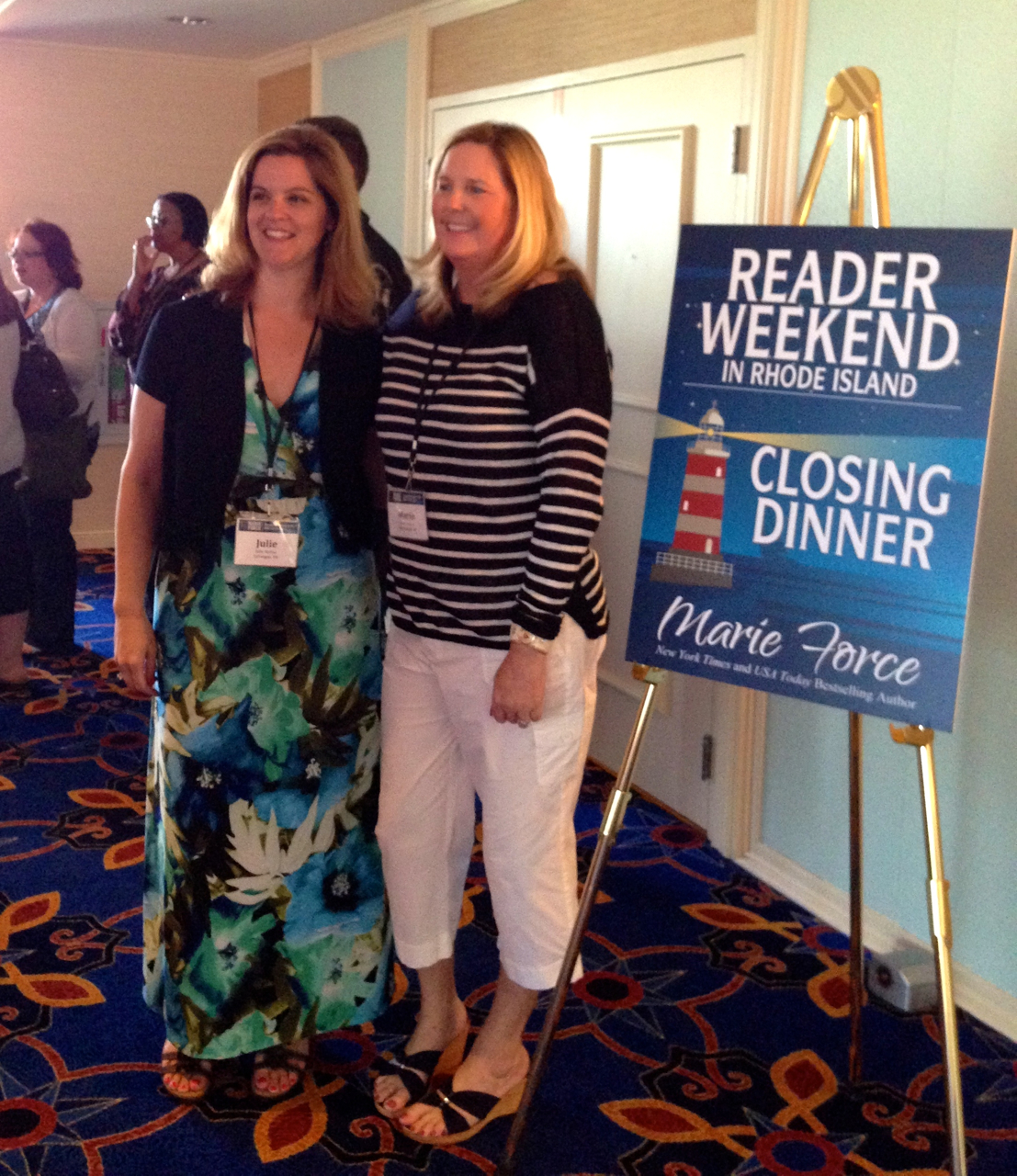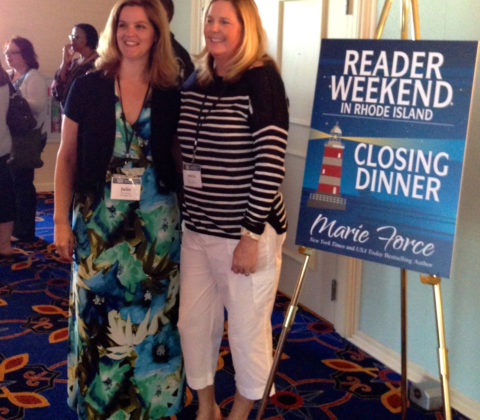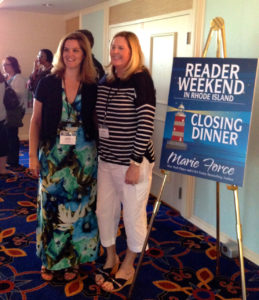 If you have followed my blog at all, you've probably heard me mention Marie Force a time or two. I started as a HUGE fan of her work – I even went to her first Reader Weekend in Rhode Island where I got to meet her. I was a total fan girl! I had just started my journey on becoming an author. My goals at that time were to write and publish one book in that year…you've heard me talk about how that went…
Fast forward to today. Marie recently gave an interview on what it's like to write erotic novels for a living and in addition to being a fan girl and reading it, I also related as an author. Now, I'm far from an erotic author – in fact, by most standards, I'm really tame. But I could definitely understand the reactions she encountered from people who knew her when she published her first erotic novel (Virtuous – in the Quantum Series – an excellent book/series). I was born and bred in the Bible Belt – we simply don't talk about such things. And we definitely don't admit to reading them! Imagine the surprise from the people who know me when they picked up the first Tip of the Spear book!
I published my first romantic suspense novel, In the Shadows, in March of 2015. This was the first of what will be six (possibly seven) books in the Tip of the Spear series. I will admit that I had to be totally alone to write the first sex scene of my career. I've yet to progress to being able to dictate one… When it was finished, I re-read it and thought it was not too bad. There wasn't anything too graphic. I avoided all the weird words for body parts that drive me nuts as a reader. Overall, I thought it walked the line between too much and leaving you wanting more.
Then my family read it…
My aunt was the first to call me. Thankfully this conversation took place over the phone. All she said was she had gotten to "that part" in the book. She was surprised that something like that came from me – the good girl of the family. I think I turned five shades of red. Really, I don't know why I was embarrassed. I mean everybody has sex, don't they?
Then my mother called. Thankfully I live in a different state. She said, "Julie Louise (in the south, pulling out the middle name is dangerous…), I cannot believe chapter sixteen!" We now use "chapter sixteen" as a euphemism to warn about upcoming questionable content. I'm just thankful that she hasn't read the Devil Mountain Shifter series!
I'm still not sure why they found it so shocking. But I do know that if I ever venture into anything more steamy, I'll be using a pen name!
2016 has been a rough year for celebrities. We've lost so many. Additionally, I recently lost my beloved grandmother. It got me thinking about women who have shaped me into the person I am today. First, let me say I love women who are the first in their field – those who break out of the mold that they are forced into. Women who dare to go where no woman has gone before are truly inspirational. That's where I chose to start my list of women that I find inspirational. I originally called this the "Top 5," but I'm not sure that I can truly quantify a top 5. So, here are my thoughts on women I look up to.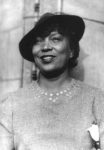 Zora Neale Hurston. Who is that, you might ask? Ms. Hurston was an African-American woman who came to prominence during the Harlem Renaissance. I first discovered her work while taking an African-American Literature class in college. We had to read her book Their Eyes were Watching God, and I thought it was amazing. I read the book in several other courses after that first time, and it had no less of an impact with each re-read. Ms. Hurston detailed the struggle of a black woman in the south who overcame several obstacles, but it was so much more than that. She wrote at a time when there wasn't a platform for African-American women, or their works of art. In fact, she is said to have died penniless. I'd like to think that she knows of her impact on the world of literature once her books were rediscovered.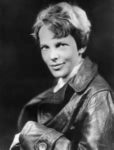 Amelia Earhart. Have you ever wondered how many times she was told that a woman couldn't fly? Think about it. She flew across the Atlantic Ocean in 1928 – just 8 short years after women were given the right to vote! I've spent a lot of time imagining her conversations with people who doubted her or tried to convince her that she couldn't achieve her dreams. I'm glad she proved them wrong!
Pat Summitt. Her death at the end of June is really what started me thinking about this blog post. I wrote a paper on her for my Master's program and discovered how inspiring she was. The winningest coach in basketball history – men OR women! Think about that!! I'm a HUGE basketball fan – as any of you who followed me on Twitter during March Madness know. I was born and bred on UK Basketball – it's practically a religion down here. Though I was never a UT fan, Pat Summitt stood out. She represented grace, strength, power, humility, eloquence, and so much more. Her attitude was inspiring, both on and off the court. Google her – some of her more popular quotes will bring tears to your eyes.
Marie Force. Of course I couldn't go without listing the one person who has made self-publishing into an art form. This woman went from a working mom and wife to an author who has published 50 books! She has established her own business, helped other authors begin to achieve their dreams, and still manages to keep in touch with her fans. I am exactly 10 years behind her in this adventure, and I hope when I reach the mark she is at now, I have a quarter of her success, and 100% of her character.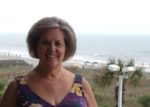 Connie Mellon – my mother. I know, I know…she isn't famous… But what she has in common with all of the women above is her support. I am sure that there was one person who supported each and every one of the women I listed in #1-4. I've read that Earhart's husband published a book lavishing praise on his wife after her death. Pat Summitt had a family, both related by blood and by sport, that stood beside her during her final years. Marie Force has often talked about the support she receives from her family – namely her husband and father. For me, that support has come from my mother. She never fails to encourage my dream or to believe that it's possible (p.s. I should say that if this was a list that included men, my father would be on it, too!).
My lesson to you by including my mother is that word do mean something. Look around at the people you love – support their dreams. What would have happened if Amelia had never taken off the first time? Or if Pat had never accepted a job as head coach? Women are making strides to accomplish their dreams. There aren't many fields that haven't felt the impact women bring to the table. Now, it's time to build higher – go further –dream bigger.
Who knew the process of publishing a book was so involved?  When I started this dream, I thought, "Hmmm, I'll just write and put it out there." Wow, was that ever wrong! There's writing, revising, editing, sending it to beta readers and an editor…and that's just the book. Then there's the website, social media, and book covers. Whew, it can be exhausting.
Now, there are several sites out there that offer pre-made book covers, and some of them are pretty good. But I happened to have a friend who is a really talented photographer and graphic artist. I can describe to him exactly what I have in mind and he makes it 100% better than I could have imagined. And then there are the times he just creates a masterpiece from his own thoughts.
Free to Kill in the Katie Freeman series was the first book I completed and published. It was also the first time I had to actually think of what to do for a cover. Michelle (my social media guru), Ryan and I sat down to begin brainstorming. I gave them a pretty in depth description of the book and what I had in mind. Ryan asked what the church I envisioned looked like, so I started searching online. I found a church in a small town in Kentucky that was PERFECT! But who had the time or money to go to Kentucky? So I started looking for similar architecture in Tennessee. I found the church on the cover of Free to Kill in downtown Nashville – and BONUS! it even had the red door!! The only problem was that it was on a weird street corner with traffic all around and electrical wires obscuring every view. But Ryan took his camera and somehow made the church look like it was in the rural setting from the story. It was the first time I realized what a master he was behind the lens.
From that time on, we have worked to build a theme between the books in a series. This was something I didn't really think about in the beginning. Take a second to go look at the covers of your favorite book series. Do you see a similarity? That's called Branding – and it's vitally important. Who knew!?
With this information, Katie Freeman covers had a color scheme and a main attraction – that was always red. In Free to Kill, it was the door. In Free to Deceive, it was the fountain. In Free to Live, it was the front door of the house (Ryan actually had this cover designed before I published book 2, but it was so perfect for book 3, that we held off on using it). I can't wait to see what it is in Free to Believe – book four (no release date yet, but shooting for June…).
The same theory applied to the Devil Mountain Shifters books that I released in October. They all had the same mountains in the background and the same physical look.
The Tip of the Spear series was a little trickier. I said from the beginning that I wanted the large spear on the cover with the main image in the center. Ryan still argues with me to change that, and one day I might let him win. But changing that now would mean redoing all the covers so that they are consistent. I think both he and I struggle more with the Tip covers than any other. He sends me beautiful first drafts that would be sufficient if I used them. But there's just something that doesn't hit right. He's become a mind reader when I say "there's just something not right about it." One thing I've learned is to actually tell him when something doesn't sit right. That's a difficult thing to do for a person who hates to make waves. I'm one of those people who will never send food back in a restaurant, just because I don't want to upset anyone. I've had to adjust that mentality for my books. After all, these are my babies. If I don't speak up for them, who will?