Free to Prey – Katie Freeman Book Five (September 22, 2017)
Now that her suspension has been lifted, Katie Freeman is determined to return to work, keep her head low, and – most importantly – stay off her boss's radar. But someone has other plans. Waiting on her desk is a package with shocking contents, with no indication of who sent it – and the implied threat lands Katie in the one spot she was most determined to avoid.
Not happy to be sidelined on the investigation into the mysterious gift, she and her partner, Michael Powell, are assigned to the gruesome murders of a father and his two children. But they never expect the killer's calling card to reveal a connection to Katie's past.
With the threats circling closer, Katie and Michael must work quickly to ensure her survival. But when danger hits close to home, their teamwork might be the only thing that ensures they both survive.
Kindle
iBook
Nook
Kobo
Paperback
Free to Believe – Katie Freeman Book Four (August 5, 2016)
Free to Live – Katie Freeman Book Three (December 29, 2015)
Special Agent Katie Freeman has a secret, one she has only shared with her partner, Michael Powell. While looking at the files of a cold case, Katie discovered a possible personal connection. Is her mother the woman who disappeared twenty-six years ago? And did she kill Katie's father?
If her mother is the missing woman, how will that affect Katie's career with the FBI? And, now that she has dragged her partner into this mess, will the calls come tumbling down on him, too? Adding to the stress is Katie's new relationship with a fellow FBI agent. She is keeping secrets from him that impedes their ability to move their relationship forward.
Can Katie resolve this situation before she loses everything she has worked for?

Free to Deceive – Katie Freeman Book Two (June 9, 2015) 
Special Agent Katie Freeman and her partner, Michael Powell, step in to assist the local authorities after the discovery of thirteen bodies buried in a small park. The chilling pose of each body and the gruesome manner in which they died indicate a particularly sadistic killer. As Katie and Michael begin investigating the case, they encounter more questions than answers – are these hate crimes or crimes of passion? How did so many men go missing without someone noticing? How are all these victims connected? With more bodies than they can handle and time running out, can they catch the killer before another victim disappears, or will they lose one of their own in the process?
While Katie navigates this case, guilt over the secrets she is hiding from her partner threaten to overwhelm her focus. Can their partnership – and her career – survive if the truth comes out? 

Kindle
Paperback
Nook
Kobo
iBooks
Free to Kill – Katie Freeman Book One (December 9, 2014)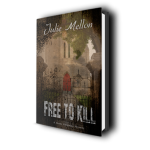 FBI Agent Katie Freeman's life has been upended. After being reassigned from Louisiana to middle Tennessee, her new bosses suspect that her reassignment is due to an indiscretion with her previous partner. Now, she and her new partner, Michael Powell, are asked to assist on the bewildering case of a woman who was kidnapped, tortured and left for dead on her own front porch. Before they can make any headway, a second woman disappears. As the number of missing womenrises, Katie and Michael must work to figure out how the women are being abducted and where they are being held. Will they be too late to save the latest woman?
Complicating matters even further is a cold case left behind by Michael's former partner. Who murdered Henry Stephens twenty-six years ago? What happened to Henry's wife? And why does one of the suspects act like he knows Katie?