Productivity…why have you abandoned me?
Ever have small stuff interfere with getting things done? It seems every time I boot up my computer I have seventeen different updates that need to be done. In the past month, I've also had a few electronic malfunctions. First, the batteries in my mouse exploded, leaking battery acid everywhere. You'd think that would have been an indication that I should check all the batteries – especially given that I purchased the computer with the mouse and keyboard at the same time. But, alas, I did not. I sat down a few weeks ago to finally get Katie Freeman wrapped up only to find that the batteries in the keyboard had also exploded… I had battery acid slowly expanding out of the battery cover and power button slots. Definitely not a good sign.
It's funny, really. Neither the mouse nor the keyboard were even slowing down. They worked one day and the next day…nothing. Just acid, slowly eating away at my productivity…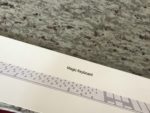 Today, I finally replaced the keyboard (the mouse was replaced instantly) with a brand new Mac Magic Keyboard. And to my utter delight, the new keyboard is even better than the last. My first keyboard was just a simple, small Mac keyboard. Now, at my "pay-the-bills" job, I am forced to use a PC. But what I love about it is that there are "Delete" and "End" keys on the keyboard – one of very few advantages the PC had over my Mac.
I never really noticed how much I used them until they weren't there. It was the biggest downside to using a Mac…those two simple buttons. I know there are keyboard short cuts for those two functions. And I am a HUGE keyboard shortcut person. But for some reason those shortcuts just wouldn't stick in my brain and I found myself reaching for the mouse.
But now…I have my keys back. And productivity is back underway! Let's work some Magic!