Swag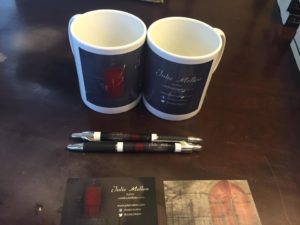 Have you seen the posts from my social media? I've recently been enraptured by the amount of swag that can be personalized. I went online simply to purchase new business cards, and the merchandise they offered me at a discount for being a new customer sucked me in. I didn't go totally crazy, but I started to dream. I mean all of this started by dreaming, why not think bigger?
I am now the proud owner of several mugs, pens, stickers, magnets, and tote bags with my logo on them! My social media coordinator, Michelle, is finally happy. We can start doing giveaways and prized and contests. She's never had a problem thinking big, but I've taken a little urging to come along. Okay, a lot of urging. But as I told her, I can be taught!
Stay tuned for more exciting things to come!