Naughty Nashville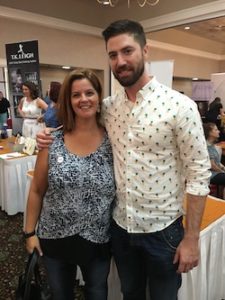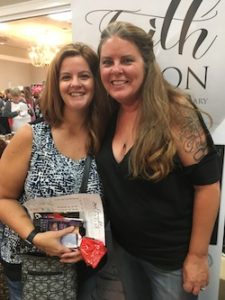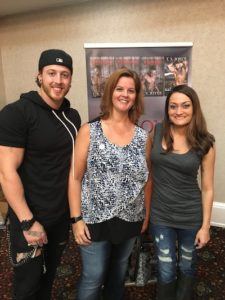 This past weekend I had the chance to go to my first author signing event – Naughty Nashville. It was exciting, crazy, informative, exhausting, overwhelming…and I totally loved it! I went for two reasons: 1) because I've never been to one and I'd like to eventually start participating in them, and 2) to meet T.S. Joyce.
I've been publishing for four years now and have begun to think about taking next steps. I was astounded at how many authors at this event were in the same place as me. It was so exciting to meet authors who knew where I was coming from and where I was at. A few of my favorites: Sadie Gruber – she and her husband were hilarious and so friendly. I laughed so much while talking with them. (If you're curious – google "I licked it!" and Sadie Grubor – hilarious tagline!). Also, Mickey Miller – a man who writes romance! I know, I know – I'm sure there are many of them out there. It's just not as common. At first I kind of felt sorry for him being surrounded by so many crazy females – but he took it in stride! I've already ordered several of his books and really look forward to reading them! The third author of mention is Faith Gibson – oh, my goodness! She and her assistant/friend were a riot!
There were so many new books to discover! But now I have to pace myself – I do have my own books to write. I keep telling myself I can't disappear down the rabbit hole of living in someone else's world until have a solid schedule set to finish the next Tip of the Spear novel for you all!
And finally – the highlight of the day – meeting T.S. Joyce. OH MY GOODNESS!!! The line to meet her was so long that they handed out tickets and only called people ten at a time. I would have waited all day just to say hi. T.S. Joyce is single handedly responsible for my love of shapeshifter novels. Her Hell's Canyon series is one I never tire of rereading. And I was so happy that she is bringing them to print! She was funny, cute, tiny (!!!), and so friendly to her fans. She had something to say to each of them. As I move forward in my writing career, I am determined to keep her attitude present in my mind – that is definitely the way to treat your fans!
Now it's time to start researching author events and putting a plan in place to get out and start meeting you all!